Step One
Download the CBOX plugin by doing either of the following:
1. Go to your WordPress Dashboard and navigate to Plugins >> Add New.  Search for CBOX and click Install Now. Continue to Step Three below.


– OR –
2. Download the CBOX zip file from the WordPress Repository: https://wordpress.org/plugins/commons-in-a-box. Continue to Step Two.
(For more information see: https://commonsinabox.org/download)
Step Two
If you downloaded the CBOX zip file (option 2 above), go to your WordPress dashboard and navigate to  Plugins >> Add New. Click on Upload Plugin and then click Choose File to find the CBOX zip file you downloaded and saved in Step One. Click Install Now .

Step Three
Next, you need to activate the CBOX plugin.  Following install, you should see the following:

Click Activate Plugin. You now have CBOX on your site, but you still need to configure its settings. Click the orange button in the popup button to finish setting up your CBOX plugin.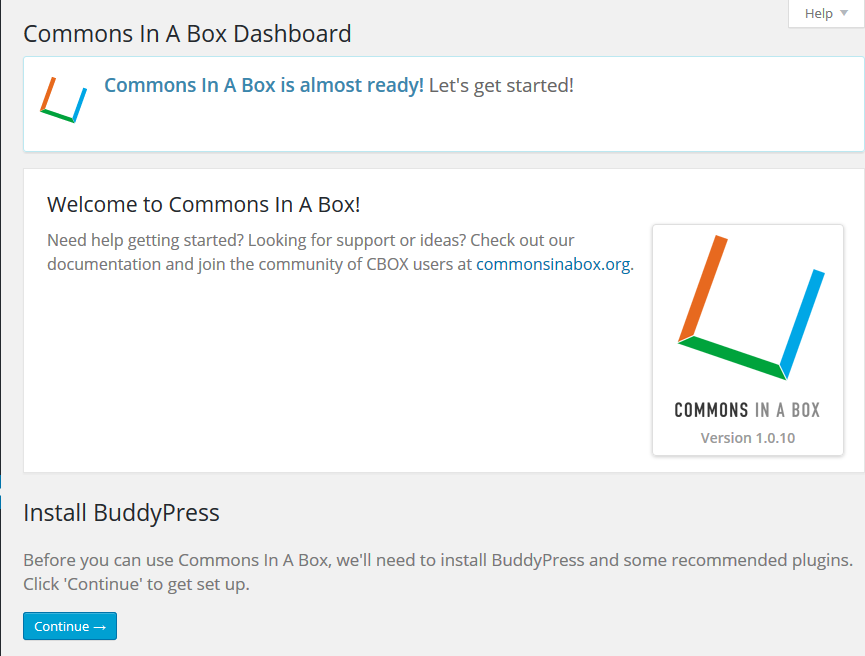 Click on Continue to install BuddyPress and other CBOX plugins.
You should see the following:
Click on Return to the CBOX Dashboard.
Step Four
You're taken to the Commons In A Box Plugins page where you can manage the plugins that were installed with CBOX. BuddyPress is a required plugin, but all of the other Plugins on this page can be deactivated if you choose.
Be sure you change your Permalink structure from the WordPress default so that it works with BuddyPress.

Step Five (Recommended) – The CBOX Theme
You have now installed and activated all CBOX plugins, and you are good to go.  You will probably want to get started with CBOX's  default theme to see how all the pieces fit together.  Many users choose to create a CBOX child theme to personalize their sites.
Go the your WordPress dashboard and click on the new tab called "Commons In A Box."  Here you will see links to CBOX's various components.  To install the CBOX default theme, click on the hyperlink highlighted below – "Like the CBOX theme?  Install it!"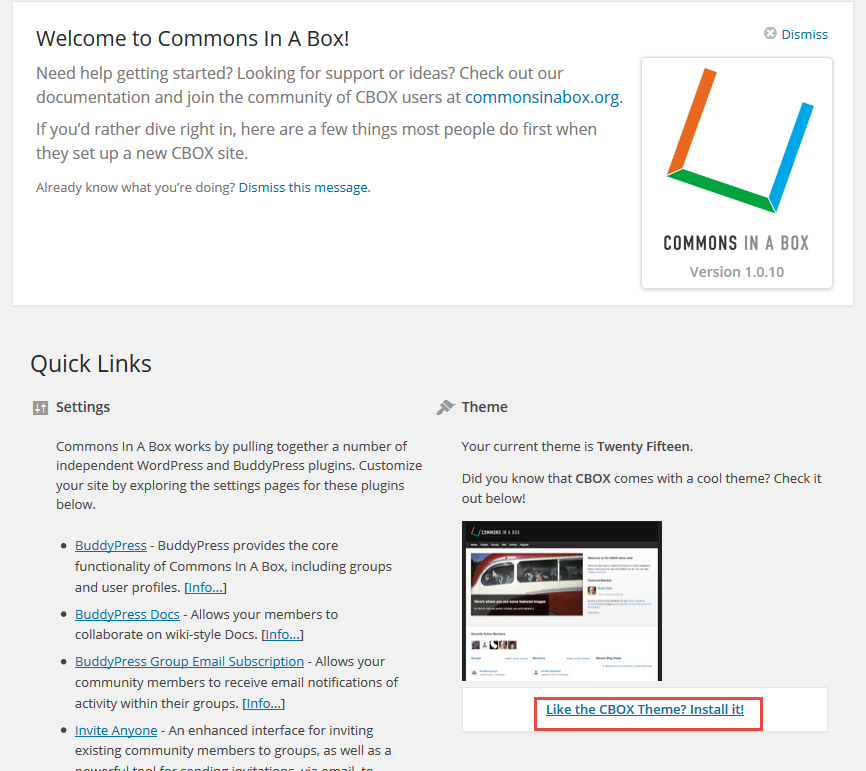 Congrats!
At this point CBOX is fully functional, and you can click on the CBOX tab in your dashboard to manage CBOX plugins and configure the CBOX theme.  See CBOX Dashboard for more information.
And join our Help & Support Forum where users of Commons In A Box report issues and learn about their resolution.  Thanks for becoming part of the CBOX Community.