CBOX comes with its own responsive theme that is easily customized to create an organizational "Commons."  While you don't have to use our theme to use CBOX, a quick look at its features will quickly convince you to try it out.  (A site already running BuddyPress can keep its existing, customized theme and still manage its plugins with CBOX.)
The CBOX Theme
Designed by PressCrew the CBOX theme is unique in that is completely build to integrate with the CBOX plugin. Installing the CBOX theme can be done straight through your CBOX Dashboard.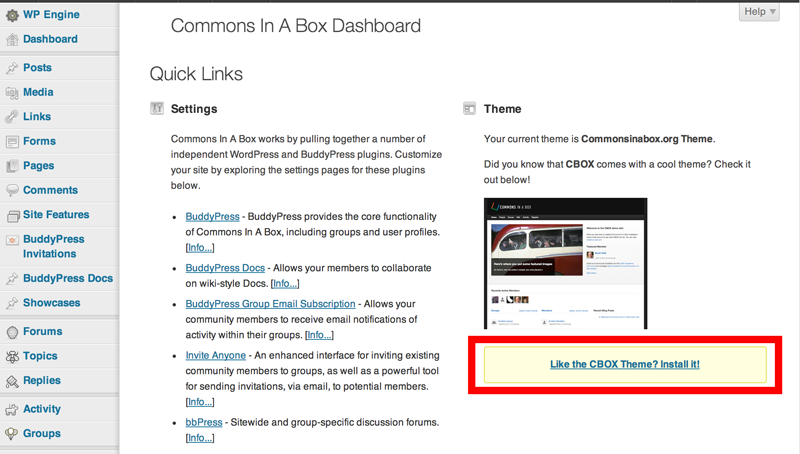 CBOX Theme Configuration
To configure your site, go to Appearance>> CBOX Theme Options on your dashboard: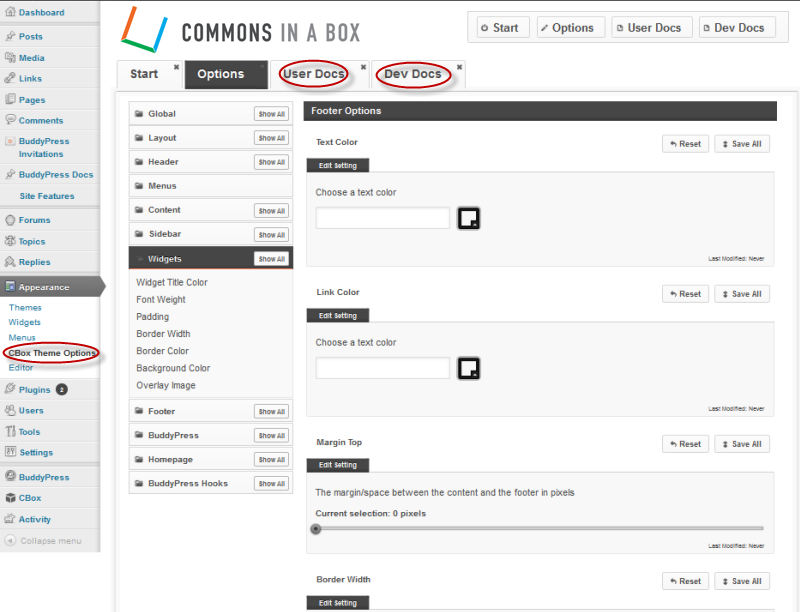 As can be seen from the snapshot above, there are many options that can be controlled directly from the dashboard.
Clicking on "User Docs" will take you to the documentation found here at commonsinabox.org.  Clicking on "Dev Docs" will take you the Infinity Documentation.  Both of these open within a frame and don't take you away from your dashboard.
Here is a screenshot of the first page of Infinity Documentation:
Theme Developers
If you'd like to make changes to the theme first take a look at the build in theme options. You can find these under Appearance > CBOX Theme Options. If you want to make advanced customisations to the theme you can make a child theme of the CBOX theme, and add you own customizations. Visit the Theme Developer Guide for a step-by-step tutorial series!